MooScience
Dairy (Milk) Fat Does Not Cause Cardiovascular Disease
Myth: High fat dairy products like whole milk and full fat yogurt are bad for your cardiovascular health.
Truth: Full fat dairy products don't cause strokes or heart attacks and may even protect against them. Higher intake of whole fat milk, yogurt and cheese is associated with better cardiovascular health. People who consumed at least 5 servings of delicious full fat dairy a week had a significantly higher cardiovascular health score than people consuming dairy less frequently (Crichton and Alkerwi 2014).
Dairy Foods and Dairy Fats May Prevent Cardiovascular Disease
Short Summary: Dump in that cream! Eating more dairy, or enjoying more dairy fat, does not increase your risk of cardiovascular disease (CVD), heart attacks or strokes. In fact, new research shows that consuming whole fat dairy products like butter, whole milk and cheese, may reduce your risk of cardiovascular disease.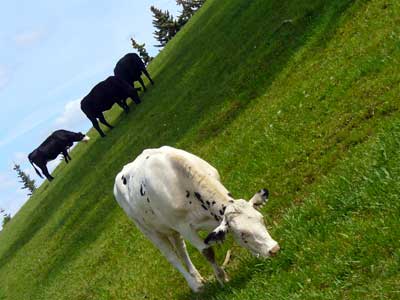 Picture: Try looking at things in a new way. Nutrition isn't a simple science. Dairy fat isn't bad for you and it can help protect you from cardiovascular disease.
Evidence: If you have been scared away from dipping your strawberries in whipped cream due to concerns about heart health, fear no more. The majority of dairy research reports that consuming full fat and low fat dairy either has no effect on or reduces your risk of cardiovascular disease risk and/or stroke (Huth and Park 2012, Kratz et al. 2013). In addition, there doesn't seem to be any correlation between eating more dairy products and CVD, strokes, and coronary heart disease (CHD) regardless of the fat content of the dairy product (Huth and Park 2012). Dairy products depended on the study but generally included whole milk, low fat milk, full and low fat yogurt, cheese, butter, sour cream, cream, and/or ice cream.
Dairy Fat Prevents Cardiovascular Disease
Quick Summary: Eating more full fat dairy products may reduce your risk of a heart attack. People who ate the most full fat dairy had the least risk of CHD and CVD.
Supporting Studies: Phospholipid fats associated with eating more butter and whole fat dairy reduced the risk of CDH and CVD in a study involving 2837 multiethnic adults (45-84 years old in 2000-2002) (de Oliveira et al. 2013). This study found that consumption of full fat dairy products was linked with higher concentrations of phospholipid fats (15:0) in fasting blood samples. Each additional daily serving of whole‐fat milk, cheese and butter was associated with a 11%, 44%, and 23% standard deviation (SD) increase in phospholipid fat, respectively. Every SD-unit of phospholipids was associated with a 26% reduction in CHD risk and a 19% reduction in CVD risk. This means that eating more dairy fat reduces cardiovascular disease risk. In addition, de Oliveira et al. (2013) also found that higher concentrations of phospholipid fats were associated with lower blood pressure and plasma triglycerides.
Elwood et al. (2004, 2010) also reported that people with higher dairy intakes had less strokes and less heart disease. Dairy consumption of all kinds; including full fat dairy, yogurt and cheese; appeared to protect against strokes (Elwood 2004, 2010) and type 2 diabetes (Mozaffarian et al. 2010, 2013).
Larsson et al. (2009) found no correlation between dairy intake and risk of stroke. Soedamah-Muthu et al. (2011) also found no association between intake of high fat dairy foods and CVD risk in their dose response meta-analysis. Several studies reported that eating butter, cream or milk fat did not cause an increased risk of mortality due to stroke and/or CVD in men and women (Elwood et al. 2004, Goldbohm et al. 2011, Sonestedt et al. 2011). This is great news for those of us who like to pour heavy whipping cream over our oatmeal (try it with a little brown sugar and you'll never complain about oatmeal for breakfast again).
Nestel et al. (2013) found that when overweight people consumed full fat fermented dairy products like yogurt and cheese, as well as non-fermented products such as butter and ice cream, they had healthier concentrations of six inflammatory and two atherogenic cardiovascular biomarkers than when they consumed fermented and non-fermented low fat dairy products.
Dairy Fat May Decrease the Risk of a First Heart Attack in Women
Eating that full fat yogurt may be good for your heart. There is a significant negative association between milk fat markers in the blood serum and the first heart attack (myocardial infarction) in women (Warensjö et al. 2010). This means that consuming milk fat reduces or delays the risk of a heart attack. Men showed a similar trend but it wasn't significant. Serum milk fat biomarkers looked at in this study were pentadecanoic acid (15:0), heptadecanoic acid (17:0), and their sum.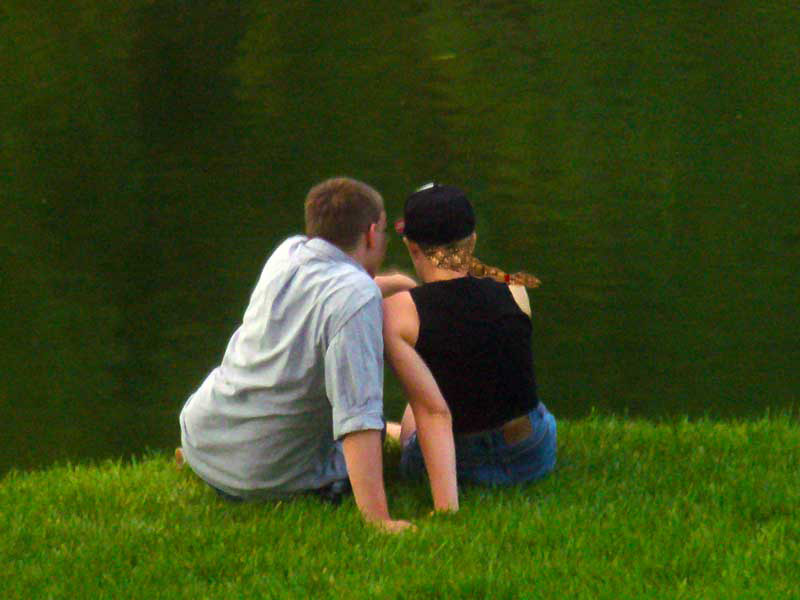 Picture: Dairy can be part of a healthy lifestyle.
Eat Full Fat Dairy with No Guilt:
For a creamy and satisfying taste with no guilt, pick up that full fat yogurt or pour yourself some whole milk. Studies have shown that full fat dairy does not cause, and may even prevent, cardiovascular disease. Whole milk products are healthy, taste better and keep you feeling full longer. They will not cause weight gain and will even help you shrink that potbelly. Most full fat dairy products have less sugar and additives than the low fat version of the product. That is because full fat dairy products are naturally creamy and delicious. In contrast, low fat products use extra sugar and add thickeners to try to mimic the taste and creaminess of full fat.
Fun Fact: Saturated fat of any kind does NOT cause cardiovascular disease. Siri-Tarino et al. (2010) analyzed 21 previous studies about saturated fat (with 347,747 subjects) and found that there is NO significant evidence that saturated fat intake is associated with an increased risk of CHD or CVD.
References: