Dairy Products Prompt Weight Loss
Adding dairy to your diet may help you lose weight! African American adults who consumed a yogurt enriched diet (three 6-oz servings of yogurt) lost more weight and body fat when compared to those consuming a very similar but low dairy control diet (Zemel and Sun 2008). Both the high yogurt and the control diet had the same number of calories and the same percentage of macronutrient percentages (35% fat, 49% carbohydrate and 16% protein).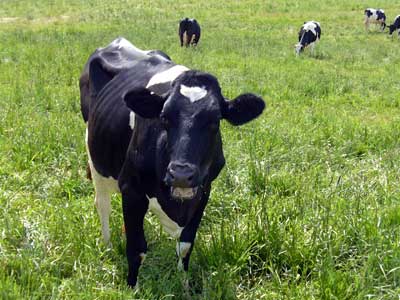 Picture: A young and skinny Holstein dairy cow chows down on grass.
Choose a higher protein yogurt if you want to eat less later
Eating a higher protein snack, like strained yogurt, can reduce hunger. Women who ate a high protein Greek yogurt snack (24 g protein) in the afternoon had reduced hunger, increased fullness and delayed eating compared to women who ate no snack or a lower protein yogurt snack (5 or 14 gram protein) (Douglas et al. 2013).
Consuming a high protein yogurt drink for breakfast increases fat burning
Men and women burned more calories when they drank a protein enriched yogurt smoothie compared to when they drank milk. In a cross-over design study, people had either milk, a high protein whey-enriched yogurt smoothie or a high protein alpha-lactalbumin-whey enriched yogurt smoothie for breakfast. Chugging breakfast yogurt smoothies (43% protein) increased diet-induced thermogenesis and promoted a positive protein balance when compared to milk (Hursel et al. 2010). Yogurt smoothies enriched with alpha-lactalbumin-whey also decreased hunger and satiety compared to both the high protein yogurt smoothie and the milk.
Whole Milk Dairy Products Prevents Potbellies!
People who enjoy whole milk products, including cream and full fat yogurts, are less likely to gain weight or get a pot belly (Holmberg and Thelin 2013, Crichton and Alkerwi 2014). A study of 1352 men and women found that the more dairy products people ate the less likely they were to be obese or to have a potbelly (Crichton and Alkerwi 2014). In addition, the MORE whole fat dairy products people ate the less likely they were to have overall and/or abdominal obesity. Likewise, middle aged men who ate more high fat dairy products, such as butter and whole milk, were less likely to develop central obesity than similar men who consumed low fat or skim dairy products.
Another recent review found that whole milk products are associated with less risk of obesity (Kratz et al. 2013). Eleven out of 16 studies showed that people who enjoyed more dairy fat had lower markers of obesity such as less body fat and smaller waistlines. Eating dairy fat was associated with lower body fat.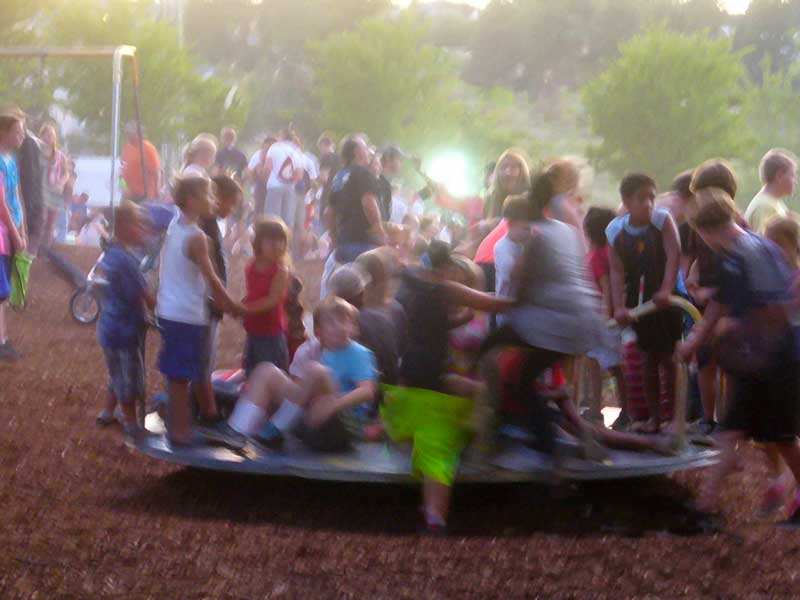 Picture: Get off the diet merry go round by feeding your body with healthy dairy products that support weight loss.
How Dairy Fights Excess Body Fat
1) Whey protein increases the thermal effect of food and thermogenesis:
The thermic effect of food (TEF) is the energy needed to digest, absorb and store nutrients in food. (Pal et al. 2012). Thermogenesis is the energy released by heat due to these processes. When energy is lost due to thermogenesis it is not used to make fat! Dietary proteins, like whey or casein, enhances thermogenesis and satisfies hunger more than dietary fats or carbohydrates (Acheson et al. 2011).
Whey protein has a greater thermic effect than casein or soy protein (Acheson et al. 2011). This thermic effect remained in place for several hours after a meal. Whey protein may result in increased energy use because whey protein increases protein synthesis (Boire et al. 1997, Robinson et al. 1990).
2) Dairy contains branched chained amino acids (BCAA) which help retain and build lean body mass:
Lean body mass, which is bones, muscles and other tissues, burn more calories than fat. Having a high percentage of lean body mass protects against weight gain. Unfortunately, when people lose weight during dieting they often lose lean body mass as well. Individuals can lose up to 25% of their weight in lean body mass loss (Foster-Schubert et al. 2012). The loss of lean tissue makes regaining weight easier.
BCAA, especially leucine, spare lean body mass during dieting and stimulate muscle protein synthesis (Biolo et al. 1997, Karlsson et al. 2004, Matthews 2005). Peptides derived from dairy have also been shown to stimulate muscle protein synthesis and increase skeletal muscle mass (Westerterp-Plantenga et al. 2009).
3) Calcium increases fat oxidation and loss:
A high calcium diet has been shown to increase fat oxidation in humans by an average of 11% (Gonzalezet al. 2012) as well as increase loss of dietary fat in feces (Bendsen et al. 2008, Christensen et al. 2009). A dietary calcium intake of 1241 mg/day resulted in a significant additional loss of 5 grams fat in the feces (about 45 calories lost) (Christensen et al. 2009). Likewise, when people moved from a low calcium diet (700 mg/day) to a high calcium diet (2,300 mg/day) fecal excretion of fat increased from 5.4 mg/day to 11.5 g/day (Bendsen et al. 2008). In other words, adding 1600 mg calcium to the diet doubled fat excretion.
4) Both dairy and calcium make you feel fuller:
Higher dairy and calcium diets increased satiety (Pereira et al. 2002, Hursel et al. 2010, Jones et al. 2013). Jones et al. (2013) reported that people on a high dairy diet ate more but lost the same amount of weight as people on a low dairy diet. In addition, the dairy group felt more satisfied.
What's Diet Induced Thermogenesis (DIT)?
Diet induced thermogenesis is the energy your body uses to digest food. Obese people may have a lower DIT (de Jonge and Bray 1997) but this is still being debated (Tentolouris et al. 2008). Some foods take more work to digest than others. Interestingly, whole foods require more energy to digest than processed foods.
How Can I Kick My DIT Up a Notch?
You can eat the same amount of calories and still lose weight by eating whole foods and increasing protein consumption.
Whole Foods Use More Energy: In one study, men and women ate two different versions of the same meal on different days. The meals were either a whole food version, multi-grain bread and cheddar cheese, or a processed food version, white bread with processed cheese. Both versions were similar in calories, protein, fat and carbohydrates and the participants felt equally full after eating the meals. The whole food meal used a whopping 137 kcal (19.9% of the total meal energy) just to digest the meal while the processed food meal used only 73 calories (10.7% of the total meal energy) to digest the same meal (Barr and Wright 2010).
That means that if you eat the whole food version of a meal you will burn more calories than if you eat the processed food version. In the study above, men and women burned an extra 64 calories in one meal (about an extra 50%) by choosing whole foods! Think about what this means if you consume 3-5 meals a day. You could potentially burn an extra 200-300 calories a day just by choosing whole foods.
Increase Protein Intake to Increase Fat Burning: One of the easiest ways to increase your DIT is to increase your protein intake (Westerterp 2004, Tentolouris et al. 2008). On the days they consumed a high protein diet, young women increased postprandial thermogenesis (post meal DIT) by 100% compared to the days they ate a high carbohydrate diet (Johnston et al. 2002).  
DIT = the increase in energy expenditure above basal fasting level / by the energy content of the food ingested
Basal fasting level = energy your body uses at rest when no food is being digested.
References: