Dairy Combats Metabolic Syndrome (MetS)
Straight from the cow's mouth: People who consume the most dairy have less risk of dying from all causes!
Research Highlights:
Consuming dairy reduces the risk of metabolic disease in adults of all ages.
Full fat dairy products are even better than low fat dairy at reducing some risk factors of metabolic disorder such as diabetes and weight loss.
There are several mechanisms responsible for this protective effect of dairy on metabolic health.
Metabolic Syndrome and Dairy
People who eat dairy have less of a risk of dying from all causes including heart disease, stroke and diabetes (Elwood et al. 2010)! Consuming more dairy products is a safe way to improve your health and reduce your risk of metabolic syndrome. Metabolic syndrome is also known as syndrome X, cardiometabolic syndrome or insulin resistance syndrome.
One reason dairy promotes health is that delicious dairy products reduce the health risks caused by metabolic syndrome (Pfeuffer and Schrezenmeir 2007, Sousa et al. 2012, Da Silva and Rudkowska 2013, McGregor and Poppitt 2013, Da Silva et al. 2014).
Picture: Bessie puts on a burst of speed to escape Ellie's frequent and unsolicited nutritional advice.
Eating dairy decreases your risk of developing metabolic syndrome.
Pereira et al. (2002) found that overweight young adults who consumed the most dairy (3-4 servings a day) were 72% less likely to develop metabolic syndrome than people who consumed the least amount of dairy (less than 10 servings a week).
This work was confirmed by Tremblay and Gilbert (2009) who also reported that people who consumed the most dairy (3-4 servings a day) had a 71% less chance of developing insulin resistance syndrome compared to people who consumed the least dairy (0.9-1.7 servings a day).
In addition, recent studies that explored the effect of dairy products on metabolic syndrome either found a beneficial effect or no effect on metabolic risk factors such as body weight, lipids, blood pressure, glucose homeostasis and inflammation markers (Da Silva and Rudkowska 2013, Da Silva et al. 2014).
Dairy Protects Young Adults from Metabolic Disorders
College-aged people consuming less than 3 servings of dairy daily have three times the risk of developing metabolic disorder when compared to young adults who consume more dairy (Mosley 2013). In this study, 339 young Hispanic college students (age 18-25 years) completed a food frequency questionnaire and were evaluated for metabolic risk factors. Students who consumed dairy more frequently (at least 3 servings a day) were protected from metabolic disorder.
Why Does Eating Dairy Decrease the Risk of Metabolic Syndrome?
Dairy fights many of the symptoms of metabolic syndrome, weight gain, diabetes, high blood pressure and inflammation.
Dairy Lowers Low Grade Inflammation
Consuming creamy dairy products may reduce chronic inflammation. Low grade systemic inflammation is a major factor in the development of metabolic syndrome as well as cardiovascular disease.
The combination of obesity and metabolic syndrome is particularly dangerous (Lakka et al. 2002, Stancliffe et al. 2011). Obesity adds fuel to inflammation since fat cells spew out inflammatory chemicals that increase insulin resistance (Cornier et al. 2008). Dairy products may turn off genes involved in pro-inflammatory cytokines and turn on genes that create healthy internal antioxidants (Da Silva and Rudkowska 2013).
Dairy consumption reduces inflammation (Panagiotakos et al. 2010). People who consume more dairy servings have less markers of oxidative stress such as tumor necrosis factor-alpha (TNF-α), interleukin-6 (IL-6), interleukin-8 (IL-8), and monocyte chemoattractant protein-1 (MCP-1) (Sofi et al. 2010, Stancliffe et al. 2011, Jones et al. 2013, Zemel et al. 2010). Factors found in dairy, such as lactoferrin, are also anti-inflammatory.
Dairy Helps With Weight Loss
Recent research shows that dairy products help with weight management when used with an energy restricted diet (Zemel et al. 2005, Zemel et al. 2009, Faghih et al. 2011, Josse et al. 2011, Rosado et al 2011, Chen et al. 2012). Melanson et al. (2005) reported that a high dairy diet significantly increased fat oxidation in humans when there was a energy deficiency due to calorie restriction and exercise but not when energy needs were sufficient.
Dairy may attack excess body fat through several mechanisms.
1) Whey protein increases the thermal effect of food and thermogenesis.
It takes more energy for your body to digest food proteins, like whey protein, than carbohydrates or proteins (Acheson et al. 2011). Whey protein has a greater thermic effect than casein or soy protein (Acheson et al. 2011) since it increases protein synthesis (Boire et al. 1997, Robinson et al. 1990).
2) Dairy contains branched chained amino acids (BCAA).
BCAA and whey peptides retain and build lean body mass, even during dieting (Biolo et al. 1997, Karlsson et al. 2004, Matthews 2005, Westerterp-Plantenga et al. 2009).
3) Calcium increases fat oxidation and loss.
High calcium diets increase fat oxidation in humans by 11% (Gonzalez al. 2012) and increase loss of dietary fat in feces (Bendsen et al. 2008, Christensen et al. 2009).
4) Both dairy and calcium make you feel fuller.
Higher dairy and calcium diets increased satiety (Pereira et al. 2002, Hursel et al. 2010, Jones et al. 2013).
Dairy May Reduce Blood Pressure
Some studies indicate that dairy or whey consumption may reduce blood pressure (Ralston et al. 2012, Fluegel et al. 2010).
Dairy Regulates Glucose homeostasis
Dairy may help regulate glucose homeostasis to prevent type 2 diabetes (Tong et al. 2011). This may be partially due to alpha-lactalbumin (α-LA). Rats fed α-LA (300 mg/kg, 2x day) for 10 weeks had significantly improved glucose tolerance compared to rats not given α-LA. This may be due to increased concentrations of adiponectin (Yamaquchi and Takai 2014).
What is metabolic syndrome?
About 32% of people in the USA have metabolic syndrome. Metabolic syndrome is a cluster of symptoms that tend to occur together and are highly linked with lifestyle choices such as food and activity level. Metabolic syndrome is also known as metabolic syndrome X, syndrome X, MetS, or insulin resistance syndrome (IRS).
Metabolic disorders are caused by or aggravated by chronic low state inflammation (known as metaflammation) and are risk factors for increased disease and mortality. Symptoms of metabolic disorder include obesity (especially central or abdominal obesity), hypertension (high blood pressure), abnormal blood lipids (high cholesterol), and diabetes or abnormal blood glucose concentrations.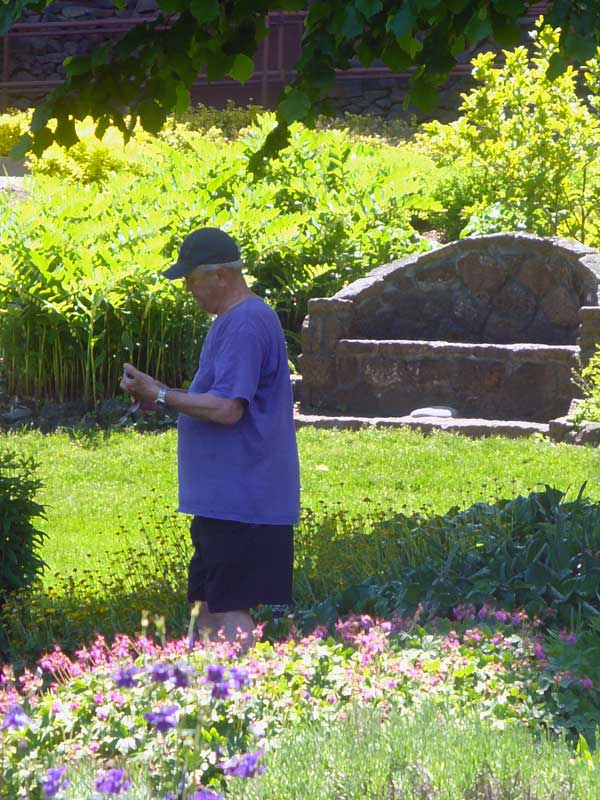 Picture: An expanding waistline is one of the signs of metabolic syndrome.
You may have metabolic syndrome if you have any three of these symptoms (being on medication to treat one or more of these symptoms also counts):
Abdominal weight gain with a potbelly or a waist circumference of over 40 inches in men and over 35 inches in women, or hip:waist ratio greater than 0.90 for men or greater than 0.85 for women, or obesity or BMI over 30
Elevated blood pressure: either prehypertension (SBP=120-139 mmHg and DBP= 80-90mmHg) or hypertension (SBP=140 or higher, DBP=90 or higher)
Low HDL (good) cholesterol less than 40 mg/dL (1.03 mmol/L) in men or less than 50 mg/dL (1.29 mmol/L) in women. This is usually but not necessarily accompanied by high LDL cholesterol.
High triglyceride readings greater than 150 mg/dL (1.7 mmol/L)
Type two diabetes or high fasting blood glucose concentrations greater than 100 mg/dL (5.6 mmol/L) and/or impaired fasting glucose or insulin resistance
Microalbuminuria: urinary albumin excretion ratio greater or equal to 20 µg/min or albumin:creatinine ratio greater or equal to 30 mg
Even having one of these symptoms doubles your risk for cardiovascular disease and increases your risk of type 2 diabetes by 5 times (Cornier et al. 2008)! There is no evidence that milk or dairy consumption causes cardiovascular disease (Pfeuffer and Schrezenmeir 2007) and a lot of evidence that dairy prevents cardiovascular disease. In fact, people who consumed the most dairy had a lower risk of death form stroke and/or heart disease and from diabetes (Elwood et al. 2008, Elwood et al. 2010).
Abbreviations:
BMI = body mass index
SBP = systolic blood pressure
DBP = diastolic blood pressure
mmHg = millimeters of mercury; the units used to measure blood pressure
LDL = low density lipoprotein
HDL = high density lipoproteins
References: